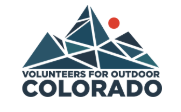 Volunteers for Outdoor Colorado
Featured Non-Profit Organization of the Month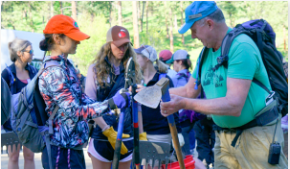 ABOUT US
Volunteers for Outdoor Colorado (VOC) is the state's oldest outdoor stewardship nonprofit organization. Since 1984, we have been motivating and enabling people to become active stewards of Colorado's natural resources.
Each year, we engage thousands of people to provide a volunteer workforce for recreation and habitat improvement projects in partnership with land agencies, nonprofits, and community groups. These volunteer projects take place in every corner of Colorado and over the decades, we've grown beyond our projects – and our borders – to help others start and improve their own volunteer stewardship programs and inspire all of us to find our place in caring for the outdoors.
DiscoverDeckers.com is your one stop website for everything you need to know to plan your trip to the South Platte River Valley, Decker's, Colorado. Whether you're looking to book a local campsite, rent a private cabin, searching for that perfect place to fish, or perhaps you are looking for our best local hiking or biking trails. Now, in one location, DiscoverDeckers.com has gathered all of this information and much more.
Complete with interactive Google Maps, we have put all of this information in one comprehensive website of the Decker's area. It's purpose is to help you navigate the South Platte region, and allow you to spend more time enjoying all of the popular outdoor recreational activities offered here in our beautiful valley.
We've simply taken the navigating and phone reservations off of your shoulders! Just click on the "EXPLORE DECKERS" tab and you'll be well on your way to climbing "Devil's Head" or landing that Gold-Medal Rainbow Trout in the Cheesman Canyon. DiscoverDeckers.com is dedicated to the businesses of the Decker's Resort and the surrounding area, which you will find located on the "SERVICES" tab. Safety is our number one concern in the South Platte River Valley. Check out the current Fire Conditions, Bans, and Alerts, by clicking on Fire Conditions
Here at DiscoverDeckers.com, we know that your time on the river is precious! With the most accurate and up to date fishing reports available on the web,  we've recently teamed up with the good folks at Flycastusa.com,  to bring you a side by side view of the weekly Decker's and Cheesman Canyon fishing reports. Please feel free to let us know if you enjoyed your visit to DiscoverDeckers.com, by visiting our "CONTACT" tab.   Don't forget to sign up for our newsletter and be informed each time we add content to our website!   We look forward to seeing you soon in our friendly foothills community.