Hankins Pass Trail Restoration @ Lost Creek Wilderness
October 3

-

October 4

free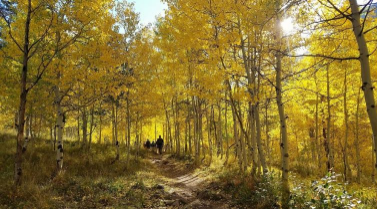 Description
Photo courtesy of Alexander Bliskovsky.
Where You'll Be:
About an hour's drive from either Castle Rock or Colorado Springs, the Lost Creek Wilderness is one of the most accessible wilderness areas from these ever-growing urban centers. With more than 119,000 acres, however, the Wilderness has kept its remote feel and offers a variety of landscapes and stunning views of unique red rock formations. The Hankins Pass Trail is part of the system that originates at the popular Goose Creek Trailhead, which provides access into the southeast portion of the Wilderness and is a common first leg in overnight loops for backpackers.
What You'll Do:
On this moderately sized project of less than 30 volunteers, you'll be led by Steve West, one of our most-skilled volunteers who has participated on more than 275 VOC projects since 1991. After hiking about a half-mile to the Wilderness boundary, you will split into smaller working groups to address a variety of critical maintenance tasks including removing hazardous logs from stream crossings and replacing them with sustainable rock steps. Free meals and campsites will be provided to all volunteers in addition to quiet, starry skies and amazing sunrises.
Why It Matters:
With limited resources, the U.S. Forest Service relies on volunteers to repair damaged trails. Your efforts will make a significant difference for the Hankins Pass Trail, making it safer, more sustainable, and accessible for years to come. Click here to learn more about the importance of trail maintenance.
Need-to-Know Details:
Minors under 18 must be accompanied by an adult 21 years or older on overnight projects.
Volunteers are responsible for providing their own camping equipment. VOC will provide meals, tools, and work gloves.
Cancellation: Our partners rely on VOC volunteers to accomplish critical stewardship needs, and our projects often have wait lists. If you need to cancel, please email Kendall Cox or call 303-715-1010 ext. 116 as soon as possible so we can free your spot for another volunteer and have a full workforce.