Gill Trail Stewardship
October 16, 2019 @ 9:00 am

-

October 19, 2019 @ 3:00 pm

free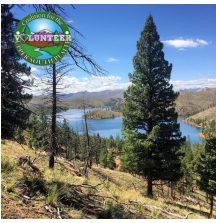 Gill Trail Stewardship
Contact CUSP to Sign Up
Wendie@cusp.ws or 719-748-0033
Workday: October 16-19, 2019
Project Location: Gill Trail, Cheesman Reservoir
Difficulty Rating: Moderate to Arduous
Project Times: 9am-3pm
Meeting Location:  Deckers Store, back parking lot. Hwy 67 and County Road 126 in Deckers
Map Link: Back Parking Lot
Number of Volunteers Anticipated: up to 15
Workday Description:
The scenic Gill Trail, adjacent to the pristine Cheesman Canyon, has beautiful canyon views and access to world-class fishing. Erosion from the Hayman Fire, heavy use and extensive non-approved trails greatly contribute to sediment in the Upper South Platte River and downstream water supplies. This project will help reduce this sedimentation, benefiting fish and wildlife habitat as well as the watershed which supplies over 75% Colorado's water for drinking and agricultural needs.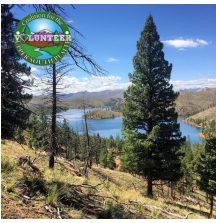 This project includes: Repairing a section of steps that have fallen into disrepair. There will be an up to 2.5-mile hike on steep, unstable terrain carrying tools with a personal backpack. Each volunteer will need to carry in their own water for the day (two liters or more are recommended), their lunch and any other necessities. Each volunteer may carry up to two tools to include pick mattocks, McLeods, and rock bars. Please consider the physical aspect of this project before registering. We will be far from any emergency services (although we are prepared for a worst case scenario), even a minor injury would make it difficult to get assistance or get down to the trailhead in a timely manner. Our chief concern is your safety and health on this project.
Important Notes:
CUSP will provide hard hats, materials and necessary tools to complete project work
A USFS outhouse will be available for participants at the trailhead
A safety review and work demonstration will proceed the project work
Weather, which could create hazardous conditions, may cause the project to be canceled or rescheduled; staff will monitor weather and notify you of any changes. Please be certain that we have a valid email and phone number for your group leader.
 Prior to the project each volunteer must submit a completed Liability Release Form form and one Volunteer Sign In Form sheet for the group.
 Please Bring:
A daypack to carry water and lunch.
At least two liters of water to carry with you, enough to last the day, we will have Igloos at the trailhead.
Any applicable medicines (including epi-pens, insulin and inhalers).
Sunscreen.
Sunglasses or safety glasses.
Long pants (jean or other sturdy material, no leggings) and long sleeved shirts are strongly recommended.
Work gloves (we will have some if you do not).
Sturdy shoes with good tread, hiking boots recommended; closed toe, no sandals please.
A sack lunch, to carry with you, we will not return to vehicles for lunch.
 What to Expect:
This project will occur in an exposed mountain environment. Please be aware and prepared for potential hazards, including but not limited to: driving on mountainous roads with loose gravel and flash flood potential; exposure to sun, wind, lightning and rapidly changing weather conditions; working with sharpened tools in areas with unstable terrain and footing; hiking at significant elevation. Medications may have adverse effects in sun, heat or altitude; please list medications and medical conditions on the CUSP release form so staff may be aware of potential concerns. Know your limitations and inform staff immediately if you become ill or injured. Be prepared to exit quickly in the event of an emergency or changing environmental conditions.  Please be prepared to hike up to a total of six miles at high elevation in varying weather conditions. Please drink plenty of water prior to and during the project to stay hydrated.
GPS systems and Internet map sites are often misleading in the mountains. Cell phone service will be inconsistent or unavailable.
Coalition for the Upper South Platte
Post Office Box 726
Lake George, Colorado 80827
719.748.0033