Campsite Inventory & Restoration @ Lost Creek Wilderness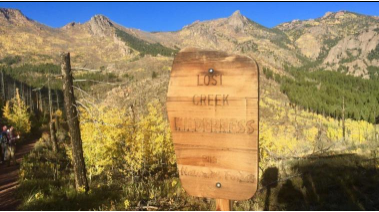 Description
Project photo by Matt Enquist.
Where You'll Be:
About an hour's drive from either Castle Rock or Colorado Springs, the Lost Creek Wilderness is one of the most accessible wilderness areas from these ever-growing urban centers. The Wilderness has kept its remote feel and offers a variety of landscapes and stunning views of unique red rock formations in its 119,00 acre expanse. The Goose Creek Trail is one of the area's most popular hikes, boasting prime backcountry camping and fishing opportunities.
What You'll Do:
Spend a weekend hiking along trails in the gorgeous Lost Creek Wilderness as you help collect data on, and restore, illegal and unsustainable campsites. In doing so, you'll benefit the natural environment and provide the U.S. Forest Service with essential data needed to prevent the future creation of illegal sites and establish permanent, sustainable campsites in their place. Meals and campsites will be provided; please note this project will require hiking about 4 miles each day.
Why It Matters:
Campsite proliferation is having a significant impact on the Lost Creek Wilderness area's ecology due to the influx of backcountry users who fail to follow the 7 Leave No Trace principles and existing wilderness regulations, such as camping 100 feet away from water and trails. The Goose Creek Trail has become an area of critical environmental concern, and volunteers' efforts will help to improve resource conditions and the visitor experience.
Need-to-Know Details:
Minors under 18 must be accompanied by an adult 21 years or older on overnight projects.
VOC will provide all equipment including tools and work gloves.
Cancellation: Our partners rely on VOC volunteers to accomplish critical stewardship needs, and our projects often have wait lists. If you need to cancel, please email Kendall Cox or call 303-715-1010 ext. 116 as soon as possible so we can free your spot for another volunteer and have a full workforce.