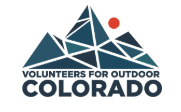 About Volunteers for Outdoor Colorado
Volunteers for Outdoor
Colorado (VOC)
Headquarters
Dos Chappell Bathhouse
Denver's Washington Park
600 South Marion Parkway
Denver, CO 80209
303-715-1010
voc@voc.org
Since 1984, Volunteers for Outdoor Colorado (VOC) has been motivating and enabling people to become active stewards of Colorado's natural resources.
VOC works with conservation and land agencies and relies on thousands of people annually to provide a volunteer workforce for outdoor stewardship projects. These projects take place across Colorado – from city parks and open spaces, to grasslands and foothills, to alpine meadows and peaks.
The Kind of Work We Do
VOC offers projects for the general public as well as customized youth and business group projects in trail construction and maintenance, invasive species management, habitat restoration, gardening and planting, forestry management, flood and fire restoration, recreational improvement, and historic preservation. While work varies in type and difficulty level, all projects are fun, gratifying, and address a critical stewardship need. Learn more about the importance of outdoor stewardship and VOC's work.
An error occurred while importing content. Error: No valid template file was found: directory_listing_photo_list